The launch of The Travel Guide to Maputo and Southern Mozambique by Bridget Hilton-Barber at Novel Books was a colourful and festive event that had just the right feel for the upcoming December holidays. Ziel Bergh from Penguin Books opened the proceedings and Hilton-Barber spoke about the inspiration behind the book. Her partner, Richard Chipps, exhibited his photographs of Mozambique, some of which also appear in the book.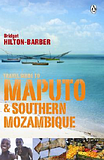 In his introduction, Ziel Bergh explained that "Bridget's wanderlust and her travel writing and her experiences have positioned her very well to write this guide." He continued, "I noticed in her previous book that we published, Garden of my Ancestors, there was a blurb that said it was a book about sex, drugs and gardening, and while I do notice that the word 'sexy' appears on this cover, this is a very well written book. It's very entertaining, very funny and very insightful. This book has a lot of soul."
Hilton-Barber explained why she chose to write about Maputo. She said, "After my years of wandering, gypsying and travelling, I've come to think of places as being like friendships or partners or lovers. Some cities you kind of warm to, some cities require courtship, some cities you've got to go back to, while some cities are instant, lust, love and passion, and that is exactly how I felt about Maputo. I visited this city and I was blown away. I realised I had to share this love and that was the spark behind writing this book."
Hilton-Barber went on to describe Mozambique's history and uniqueness as a travel destination. "Maputo is an extraordinary place. In the 'good old days', LM [Lourenco Marques] was a place South Africans fled to where they could see black women dancing naked and do things they could never do in Apartheid South Africa. It always had that port-city feel: slightly naughty, with salty sailors and a sense of possibility. Then it had the most devastating civil war. After the war, Maputo was the most tragic city. It barely functioned, there was litter and rubble everywhere, and the buildings were barbed-wired. It was really very sad. However, in the last 15 years Maputo has gone from being devastated to an absolute darling."
Hilton-Barber said that every time she goes back there she is amazed by how much it has changed. She said that there is in an interesting mix of African, Portuguese, Indian and Brazilian influences in the city. What stuck her about the city was that there was a "cultural renaissance going on. The arts and culture there is magnificent. You can go out on any given night and wander from place to place and there will always be a live band playing. The art scene is fantastic. There is a lot of international collaboration with countries like Spain, Portugal and France. It is very inspiring."
There are many other guide books about Mozambique, but Hilton-Barber says that there are none that look at Maputo so extensively. She said, "southern Mozambique is also just bliss. It moves to its own rhythm it has the most extraordinary coastline – 1500 km of the most gorgeous beaches from Ponta do Ouro in the south, all the way up to Vilanculos in the North." She continued, "It is the ideal holiday destination and I just wanted to do something for that country."
She pointed out a statue by Gonzalo Mabunda brought to the launch by Phil Baker, with whom she first visited Maputo. It was a statue built out of old rusted weapons, and for Hilton-Barber it symbolises the peaceful, non-violent nature of Mozambique and Maputo. She spoke of how after the civil war an organisation under the auspices of the UN went in and collected the weapons and donated them to local artists. Hilton-Barber said that all over Maputo you will see such works of art and it is a phenomenal statement. She added that Maputo is a wonderful city for a 'girls weekend away', as it is a very safe city for women and they can move around without fear of rape of harassment. She told a story of how she once left her blackberry in a taxi after a night out and the taxi driver actually returned it to the hotel!
In the concluding Q&A session, Hilton-Barber suggested that one should travel around Maputo by taxi, as police seem to view a vehicle with a South African number plate as "somewhat of an ATM."
After inspiring the audience to head off to this remarkable city, country guests were invited to view and purchase the stunning photographic prints of Mozambique by Richard Chipps and Hilton-Barber.
Book details
» read article