Lees oor Amanda van Blerk se ervaring op die Shingwedzi eko-roete op pad na Mosambiek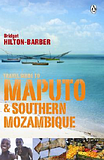 Amanda van Blerk het onlangs in 'n konvooi van ses voertuie na die noorde van Mosambiek gereis, of altans probeer reis, om dié deel van die kontinent te verken.
In 'n artikel vir Weg skryf sy oor die avonture en misavonture van hierdie vakansie wat onverwags deur Moedernatuur in ander rigtings gestuur is. "Soos met elke toer, neem ons nuwe vriende en hulle addresse huis toe. Die nag is lank, maar nie so lank nie, en die son breek gou weer in die ooste. Mosambiek is mooi hier. En miskien sal ons altyd wonder hoe die Shingwedzi eko-roete regtig was," skryf Van Blerk.
Vir meer oor Mosambiek raadpleeg gerus Travel Guide to Maputo and Southern Mozambique deur Bridget Hilton-Barber, 'n Penguin-publikasie.
Die Shingwedzi-ekoroete is al talle kere aan my beskryf as een van die lekkerste eko-roetes in Suid-Afrika. Dit begin by die piekniekplek by Pafuri in die Krugerwildtuin, en gaan verby Crook's Corner, uit by die Pafuri-grenspos na Mosambiek. Die Koorsboomwoud en Limpopovallei, asook Mosambiek-bier by Mapai en kamp by die Mambapan, is alles op die spyskaart.

Ons wou graag die noorde van Mosambiek gaan verken en het ons plek op die roete bespreek. Maar minder as 'n week voor ons vertrek word ons ingelig dat die grenspos by Pafuri verspoel het en ons nie die oorspronklike roete sou kon ry nie.
Boekbesonderhede