The Release of The Ghost-Eater and Other Stories Celebrated at Open Book with Diane Awerbuck and Louis Greenberg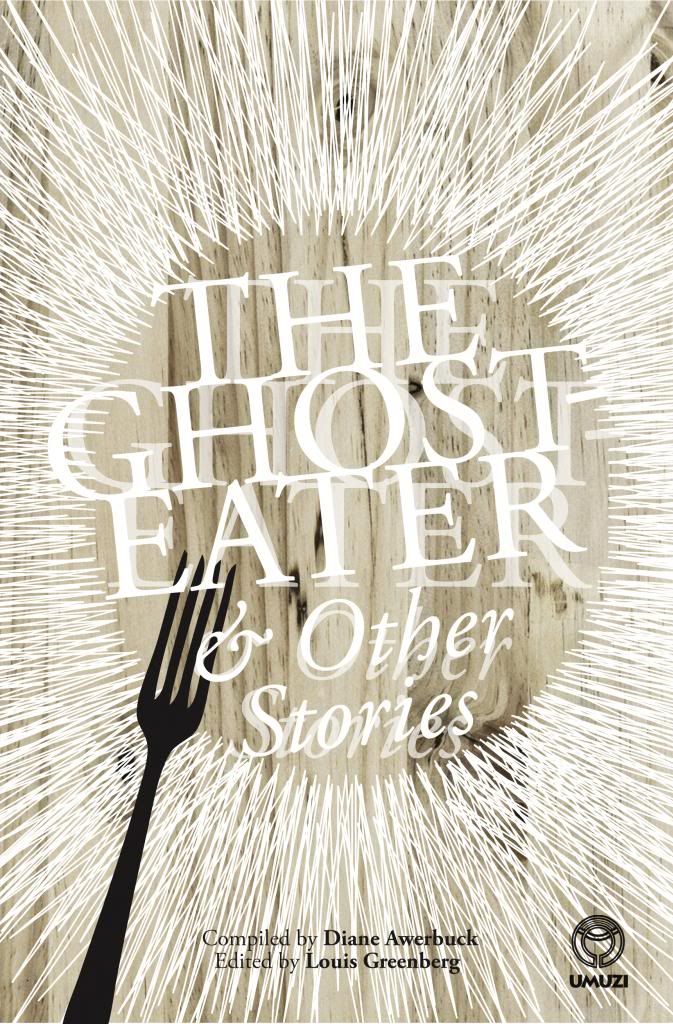 It was not your regular book launch. Never could be that.
A spectral vessel, the good ship Ghost-Eater had berthed in the Cape Town harbor, bearing staggering stories of loss and love, memory and redemption pitched against the swell. It then ploughed into the choppy waters and soon it was aloft. Its course led through the windows of Warren Editions Project Space, and out again, leaving ghostly cupcakes to fortify the editorial collaborators, Diane Awerbuck and Louis Greenberg, and the 31 contributors to the latest publishing phenomenon in South Africa, The Ghost-Eater and Other Stories.
At the launch of this e-book collection of short stories, a fitting addition to the programme of the 2013 Open Book Festival, the compiler, Diane Awerbuck, who provided vegan chocolate chili brownies to blow your head off, said these stories were amongst the best she'd read anywhere. "They are world class," she said.
Project editor, Fourie Botha, said the event was the first of its kind in South Africa. "How utterly amazing to have so many real people present to celebrate this virtual accomplishment." Editor, Louis Greenberg, beamed at all who had gathered and recommended the cupcakes as further evidence of the real generosity of the creative spirit that went into the publication.
Writers whose works appear in the collection include Mia Arderne, Daniel Berti, Leila Ruth Bloch, Lien Botha, Tembi Charles, Faith Chaza, Bronwyn Douman, Genna Gardini, Sandra Hill, Ilze Hugo, Conrad Kemp, Wanjiru Koinange, Nadia Kamies, Michael King, Sophy Kohler, Liam Kruger, Christopher Kudyahakudadirwe, Alexander Matthews, Steven Otter, Brett Petzer, Jolyn Phillips, Donald Powers, Werner Pretorius, Calvin Scholtz, Tom Schwarer, Stephen Symons, Dina Segal, Jen Thorpe, Caitlin Tredoux, Olivia Walton and Makhosazana Xaba.
* * * * * * * *
Liesl Jobson (@LieslJobson) tweeted from the launch using #livebooks:
I'm at the launch of The Ghost-Eater and Other Stories, edited by Diane Awerbuck & @louisgreenberg. Room abuzz with raw talent. #OBF2013

— Liesl Jobson (@LieslJobson) September 8, 2013
@sophycola made ghost cupcakes to go with her story, presumably. @Umuzites #OBF2013 pic.twitter.com/pTpUJBGYMw

— Liesl Jobson (@LieslJobson) September 8, 2013
@alexgmatthews @liamkruger @dinasmusings @leiblo @HenriettaRI chilling with choc chilli brownies. #OBF2013 pic.twitter.com/lgDfyeoZXr

— Liesl Jobson (@LieslJobson) September 8, 2013
@alexgmatthews welcomes editor @louisgreenberg, compiler Diane Awerbuck & Fourie Botha to launch of The Ghost-Eater. #OBF2013

— Liesl Jobson (@LieslJobson) September 8, 2013
Awerbuck: The future is collaborative. Amazing talent in our midst. Sounds cheezy, but is so. I did a term at UCT. Amazing stories! #OBF2013

— Liesl Jobson (@LieslJobson) September 8, 2013
Fourie Botha: Welcome to a launch where there is no book. Very virtual, the fringe of the fringe. Forthcoming on Kindle, e-books. #OBF2013

— Liesl Jobson (@LieslJobson) September 8, 2013
Diane Awerbuck: The theme of the anthology is death and memory. That's what they wanted to write about. #OBF2013

— Liesl Jobson (@LieslJobson) September 8, 2013
Great crowd of real people for virtual book launch, says @umuzites publisher Fourie Botha. #GhostEater #OBF2013 pic.twitter.com/tQm5jR8F2e

— Liesl Jobson (@LieslJobson) September 8, 2013
* * * * * * * *
Facebook gallery
Book details