Video: John van de Ruit Discusses Spud: The Madness Continues at Film Premiere (Plus: John Cleese Q&A)
At the premiere of the film adaptation of Spud: The Madness Continues, the second book in the bestselling series to be made into a movie, author John van de Ruit was interviewed along with actors Troye Sivan, who plays Spud Milton, and Sven Ruygrok, who can be seen in the role of Rambo.
Van de Ruit said that teenagers and adults alike will enjoy the movie: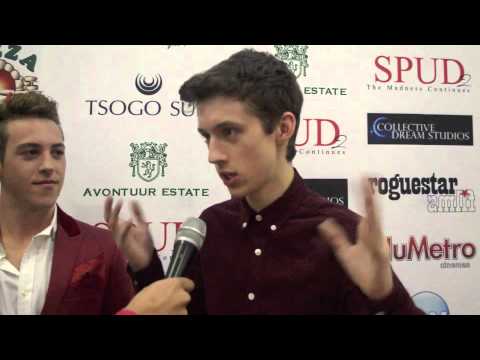 John Cleese, who plays the role of the Guv in Spud: The Madness Continues, says he easily slipped back into the character for the second film. "You know those friends that you have that you don't see for two to three years and you just pick it up like that? It's been like that for all of us," he told Evert Lombaert in a rare interview for GQ:
Within a minute of sitting down with the legendary Mr Cleese, I am completely at ease. He is cool and calm; having shot all of his Guv scenes for Spud 2 within a week. The next 20 minutes fly past as the gentle giant discusses the evils of paparazzi, dead parrots and the meaning of life…

"I have just walked into the" – shifts from a hearty laugh to a bit more sombre tone – "I more or less don't talk to the papers now…it's one of the joys of being in Monaco, that there are no paparazzi. I remember the first evening I came out of a restaurant…I absolutely, out of reflex, walked out and scanned to see if there was a long lens and suddenly realised, 'Oh no, that doesn't happen here.' The British photographers are too well known in Britain and are the most unscrupulous of all the presses. You get the these paparazzi agressively jumping out at you while you're shopping and then they'll literally follow you home on their mopeds, park outside your house and wait for you. You get a sort of glimpse of living in a police state…there's not a shred of decency in any of them, they're awful human beings" – he trails of thoughtfully, stirring his cup of tea.
Book details