Gareth Crocker Launches Never Let Go at Books & Books in Durban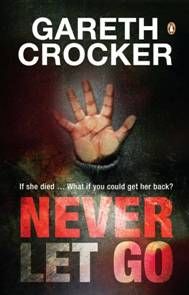 Popular author Gareth Crocker travelled down from Johannesburg for the launch of his third book, Never Let Go, held this week at Book & Books in Kensington Square, Durban North.
Crocker explained to the enthusiastic audience that publishing rights for his first book, Finding Jack, a story about a dog handler and his dog in the Vietnam war, had been sold to Reader's Digest, making it the second South African manuscript to be included in this well-known publication. As a direct result of this, he sold more than one million copies of his debut novel.
He said that his second book, Journey from Darkness, which he co-wrote with his father, focusing on elephants, was snapped up by Penguin. He has signed a multi-book deal with them, so they have also published Never Let Go.
Speaking about Never Let Go, Crocker said that this book is a "product of his sub-conscious," in that, as a dad to two young daughters, he is always concerned for their safety and welfare. He said that he wrote this book with the image of famous kidnap victim Madeleine McCann's face "in his head". The book focuses on an author, loosely based on Crocker, whose daughter is kidnapped. He is close to despair, and about to take his own life, when a stranger gives him an envelope with a small white card in it, on which is written "there is a way to get your daughter back".
Crocker said he believes the book is his most "commercial" to date. He prefers to describe it as a "love story", focusing on "finding hope in an impossible situation", although it is being billed as "dark thriller".
He mentioned he met with the producer of the film Blood Diamond this week, with a view to selling him film rights for the story.
At question time, Crocker explained that he does have a day job as a corporate spokesperson, as he finds the life of a writer a solitary one. Another listener asked him how his previous life as a journalist influenced him. He answered that, although he had not been a good journalist, it had taught him a lot about discipline and meeting deadlines.
Crocker was asked about his relationship with his father, and how writing Journey from Darkness with him had felt. He explained that his father had previously been diagnosed with colon cancer, but went into remission, which he believed was as a result of writing the book with Gareth. Crocker noted that his father had designed the storyline, while he had done all the writing, to keep the tone consistent. He told the audience that his harshest critic was his wife, although he valued her honesty because he trusted her opinions.
Crocker will be bringing out a new book in October, called King, about the shrinking community of white lions living in South Africa.
Book details