Excerpt from A Quiet Kind of Courage by Anthony Schneider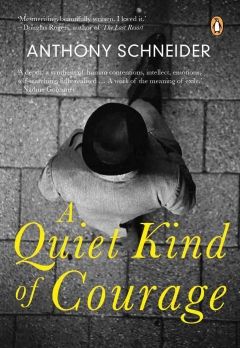 In the following extract from A Quiet Kind of Courage by Anthony Schneider, Henry, an ANC activist, talks to Nellie in a designated "safe" space, away from prying eyes at a time when blacks and whites were not allowed to mix freely. They share a moment, a frisson of attraction, and look at each other's lives in contrast to their own.
Read the extract and be sure to attend the launch of Schneider's novel at Love Books in Melville this Thursday evening.
An afternoon meeting with Colin Beswick. Afterwards Henry walked with Nellie in the garden. At the back of the property, half hidden by trees, near the neighbour's wall, stood an empty fountain shrouded in vines. A blue semi-circular pool ringed with shiny silver-green tiles, like fish scales. Henry and Nellie sat on the low fountain wall, facing the garden, their backs to the overgrown wall and dry spout. At the far side of the garden, pink pincushions dotted the green shrubs.
'We never grew flowers when I was a girl, only vegetables,' Nellie said.
'Where was that?'
'Breyton. Do you know it?'
'No.'
'You wouldn't. I was three before I saw a white man.' She looked around. 'Where are we now? We're in no man's land.'
'A very pretty no man's land,' Henry replied.
Book details