Susan Newham-Blake Reveals Why She Decided to Write Making Finn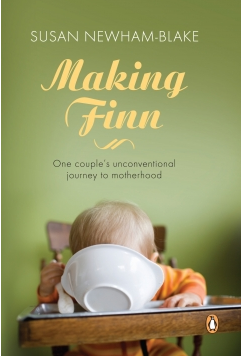 Susan Newham-Blake, author of Making Finn, has written a blog post in which she talks about how the concept of writing a book about conceiving her child first came about.
When she was four months pregnant and looking for a way to gain additional income, she found freelance work as a columnist for Women24, writing about her experience of bringing a child into the world.
After Finn was born, people always wanted to know how two women could possibly have conceived a child together, so finally she decided she wanted to be able to just tell people to read the story in her book.
When I was four months pregnant I went into a panic. I realised that I was bringing another human being into the world that I would be responsible for clothing and feeding. Roxi and I could barely afford to clothe and feed ourselves. Granted, we would obviously stop drinking so much bubbly and we would no longer spend money on fun weekends away with our sprightly child-free friends. But still, the thought of school fees and swimming lessons and birthday presents and a house with more than one bedroom was enough to reduce me to a blithering wreck. That, and all the pregnancy hormones. And so in a hysterical flurry I emailed all my magazine contacts to find out if there was any work that I could do at night on a freelance basis that could help me supplement my income and buy three years' worth of nappies.
Book details