Susan Newham-Blake Launches Making Finn with Margie Orford at The Book Lounge
The feel good factor ran high at The Book Lounge last week, where a throng of friends, family and eager readers gathered for the launch of Making Finn by Susan Newham-Blake. The author shared the riveting account of her journey to motherhood, with her partner, Roxi. A hilarious conversation with crime writer Margie Orford meant that many were wiping away tears of mirth and tenderness on this remarkable evening.
Newham-Blake spoke with candour about the conflict she'd felt on realising that she had feelings for women. "I didn't feel how I thought a gay woman would feel… I wanted to have a family, have babies. That was part of my own internalised homophobia, coming from the society we live in."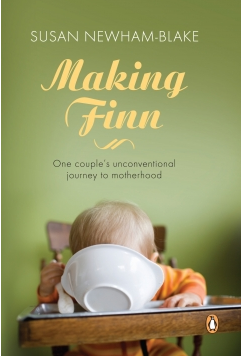 She talked about her fear that becoming gay meant she had to give up becoming a parent, which she couldn't relinquish. She asked herself, "What does it feel like to be gay in the world? Let me give it a go. Having done that, I haven't looked back. Being more true to yourself, you start making plans about having children because the desire to be a parent doesn't go away."
With equal candour, Orford thrust into the tricky territory of conception: "If the quit-the-contraceptives-time-the-ovulation-cycle-engage-in-drunken-one-night-stand routine isn't an option, then with no penis around, how the hell do you make babies?" Looping back to their respective family histories, the audience was regaled with hysterical accounts of feminist mothers and busy fathers and Newham-Blake's decision to come out at a braai, as Orford noted, "with all that boerewors sizzling on the grid…"
Newham-Blake shared some of the challenges and dilemmas she and her partner had faced. She spoke of the American catalogues they scoured in sourcing a sperm donor, which recorded every ailment suffered by each donor and their extended family, as well as the reasons each donor mentioned for choosing to be a sperm donor. She spoke of her ethical quandary that meant ensuring that her future child might know who his or her biological father is, and the decision to marry so that Roxi would not have to adopt their child.
Lastly, Newham-Blake shared the peculiar difficulties of securing the safe passage of uncontaminated sperm through the South African customs. A particularly poignant moment was a phone call with a "very sweet young customs official called Rio" who, having heard the story in full, paused and said, "But can't you get that kind of stuff in South Africa?" He then made it his mission to help Newham-Blake, phoning her back and explaining the precise protocols and instructions.
* * * * * * * *
Liesl Jobson tweeted from the launch using #livebooks:
@margieorford & @bbugged before the launch of Making Finn @penguinbookssa. Great turnout @book_lounge#livebooks twitter.com/LieslJobson/st…

— Liesl Jobson (@LieslJobson) February 28, 2013
Sloman – pleasure to launch this particular book. A celebration of very special family & everything that went into that family! #livebooks

— Liesl Jobson (@LieslJobson) February 28, 2013
@margieorford reassures audience that nobody will be demonstrating any baby-making techniques tonight! #livebooks

— Liesl Jobson (@LieslJobson) February 28, 2013
@margieorford: Making a book is much more difficult than making a baby – with or without a penis! Congrats @bbugged on this. #livebooks

— Liesl Jobson (@LieslJobson) February 28, 2013
@margieorford cannot get books through customs, but @bbugged managed to get sperm in cryogenic container through customs! #livebooks

— Liesl Jobson (@LieslJobson) February 28, 2013
@margieorford: With no penis around, how the hell do you go about making babies? That, of course, is what this book is about. #livebooks

— Liesl Jobson (@LieslJobson) February 28, 2013
@margieorford How did you come out to your parents at a braai with all that boerewors around? A barbaric place, like Alberton… #livebooks

— Liesl Jobson (@LieslJobson) February 28, 2013
@margieorford fell in love with @bbugged's mother. She had it much harder coming out to her mother as "a feminist"… Audience in stitches.

— Liesl Jobson (@LieslJobson) February 28, 2013
@bbugged & Roxi had fabulous family support. Both families on board. Ups & downs, but huge respect to parents who came to party. #livebooks

— Liesl Jobson (@LieslJobson) February 28, 2013
@bbugged praises gynae – gentle apologetic character, who recognised both of us. We never felt uncomfy through whole process. #livebooks

— Liesl Jobson (@LieslJobson) February 28, 2013
@margieorford: What prompted you to go to a man your kids might one day find? You felt so strongly about the ethics of this. #livebooks

— Liesl Jobson (@LieslJobson) February 28, 2013
@bbugged knew that her children might have great curiosity about their genes. I wanted it to be an option for them. #livebooks

— Liesl Jobson (@LieslJobson) February 28, 2013
@bbugged It felt like being in a bad movie, pick this one over that one. Staff at sperm bank trying to sell their goods. #livebooks

— Liesl Jobson (@LieslJobson) February 28, 2013
@bbugged was forced to sign an affidavit swearing she'd never bring semen into South Africa again. Amazing palaver of delivery. #livebooks

— Liesl Jobson (@LieslJobson) February 28, 2013
Roxi & Susan Newham-Blake enjoying terrific launch of Making Finn @book_lounge #livebooks twitter.com/LieslJobson/st…

— Liesl Jobson (@LieslJobson) February 28, 2013
Book details