"Suid-Afrikaners is wonderlike mense": Mamphela Ramphele gesels met Danie Marais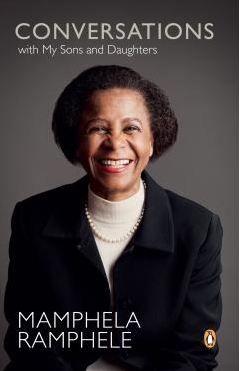 In haar onlangs verskene boek, Conversations with My Sons and Daughters, bespreek Mamphela Ramphele Suid-Afrika se demokrasie, idealisme en die moedelose jeug in ons land. Danie Marais het oor aandete 'n paar vrae aan haar gestel. Sy verduidelik aan Marais dat nie alle Suid-Afrikaners al geleer het wat om met demokrasie te doen nie en dat baie sosiale ongeregtighede onaangeraak gelaat is:
Op 64 gaan jy Mamphela Ram­phele moeilik sonder die hulp van woorde soos "indrukwekkend" en "formidabel" beskryf. Dié stigter van die Citizens Movement for Change, voormalige besturende direkteur van die Wêreldbank, rektor en visekanselier van die Universiteit van Kaapstad, anti-apartheidsaktivis en gewese minnares van Steve­ Biko is immers al in 2004 aangewys as nommer 55 op 'n lys van die 100 grootste Suid-Afrikaners.
Boekbesonderhede