Sean Davison Launches After We Said Goodbye at The Book Lounge
Sean Davison's voice retains a gentle Kiwi lilt after 20 years of living in South Africa. His self-effacing and soft-spoken demeanour is consistent with an intensely private manner.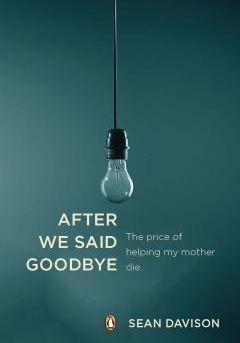 However, over the past few years, the quiet Davison has been the subject of many media reports, following his trial in New Zealand for assisting his terminally ill mother's suicide. Davison was charged after a chapter from his first memoir, Before We Say Goodbye, detailing his administering of a lethal dose of morphine to end his mother's suffering, was leaked.
Questions about the right to a dignified death surfaced in all their paradoxical might at the launch of Davison's second memoir, After We Said Goodbye, at The Book Lounge last week. The elemental questions you hope you will never have to face – for yourself or your loved one – are the focus of the book, which was written while Davison was under house arrest in New Zealand.
"I had plenty of time to kill," said Davison, ironically. "It is a day-by-day account, as well as a story behind the story of what happened". He said the public in South Africa was very confused about what was happening at the time. "They heard I was arrested for attempted murder. The trial began with an attempted murder charge. Eventually I was convicted for an assisted suicide. Still people are asking the questions, 'How could that happen when it was clearly an act of compassion?' Some people saw the Cape Times when I returned on bail. The banner headline read 'Davison admits his crime was a crime of passion'."
Davison, who is a biotechnologist on the staff at UWC, said the book was a diary. "I'm not a writer. I'm a scientist. I don't have the gift of writing that a real writer has. Writing a diary – anyone can do it – all I did was put my thoughts on paper. There's no great skill there. Keep in mind it was written at a time of great stress. I didn't go back and censor it later. Now I look at it and find some of it very embarrassing, but to take it back would defeat the purpose of the book," he said.
A woman in the audience shared the harrowing account of her son who was suffering from late stage pancreatic cancer during the time of Davison's trial in New Zealand. He jumped to his death from the cliffs of Christchurch. Many in the audience were visibly distressed. Davison reiterated the importance of his ongoing work as the founder of DignitySA in order to prevent such a humiliating scenario. "Suicides can go wrong. You can survive a jump, or a hanging…"
Davison is campaigning for the basic human right to die with dignity, so that those afflicted with a terminal illness may have the option to end his or her life with assistance in order to preserve personal privacy and dignity as well as alleviate suffering.
* * * * * * * *
Liesl Jobson tweeted from the launch using #livebooks:
@raine_pr and Sean Davison @book_lounge for the launch of After We Said Goodbye. @jonathanballpub #livebooks twitter.com/LieslJobson/st…

— Liesl Jobson (@LieslJobson) November 8, 2012
Mervyn Sloman explains to a goodly crowd downstairs @book_lounge that Sean Davison's book a is sequel to Before we Said Goodbye. #livebooks

— Liesl Jobson (@LieslJobson) November 8, 2012
Davison: There's been a lot of drama, a lot of trauma. The person who's been forgotten is my mother, who was suffering. #livebooks

— Liesl Jobson (@LieslJobson) November 8, 2012
Davison: Mother got honours degree in physics, worked as radar opperator in WWII, dropped tinfoil in Germany to scramble radars. #livebooks

— Liesl Jobson (@LieslJobson) November 8, 2012
Davison: Mother's defining capability was her intellect plus maternal love. Gave up 15 yrs of career to wait until youngest started school.

— Liesl Jobson (@LieslJobson) November 8, 2012
Davison: Why did mother go on hunger strike? She could have taken an overdose. The reason she did it because she knew she'd die. #livebooks

— Liesl Jobson (@LieslJobson) November 8, 2012
Davison knew overdose can go wrong, could lead to terrible outcome. Took way she knew would work. Hunger strike was bad decision. #livebooks

— Liesl Jobson (@LieslJobson) November 8, 2012
Davison: You're not allowed to help somebody to die with dignity. I'm going to campaign for this. I founded Dignity South Africa. #livebooks

— Liesl Jobson (@LieslJobson) November 8, 2012
Davison: This book was written during house arrest in New Zealand. It was a healing experience. It's the story behind the story. #livebooks

— Liesl Jobson (@LieslJobson) November 8, 2012
Davison: Barbara Erasmus was pivotal in getting MS to @penguinbookssa. Her Below Luck Level is brilliant book. Deals with topic. #livebooks

— Liesl Jobson (@LieslJobson) November 8, 2012
Q&A starts: What was attitude of New Zealand authorities? Were they sympathetic? #livebooks

— Liesl Jobson (@LieslJobson) November 8, 2012
Davison: NZ society is very different from SA. Very little crime. Nanny state. Law for everything. Illegal to smoke in own car! #livebooks

— Liesl Jobson (@LieslJobson) November 8, 2012
Davison: Along comes a "mercy killer". I was followed. Hotel room bugged. Every character mentioned in book was interviewed. #livebooks

— Liesl Jobson (@LieslJobson) November 8, 2012
Davison doesn't regret helping his mother to die. It's what she wanted. I didn't have a choice. There was no decision for me. #livebooks

— Liesl Jobson (@LieslJobson) November 8, 2012
Davison: Not a religious issue. God gave us power to make decisions. Face consequences. Can't lay everything at God's feet. #livebooks

— Liesl Jobson (@LieslJobson) November 8, 2012
End of utterly profound, tender discussion. Sloman: remarkable person of integrity. Book benefits people round the world. #livebooks

— Liesl Jobson (@LieslJobson) November 8, 2012
Book details