Jamala Safari Debuts with The Great Agony and Pure Laughter of the Gods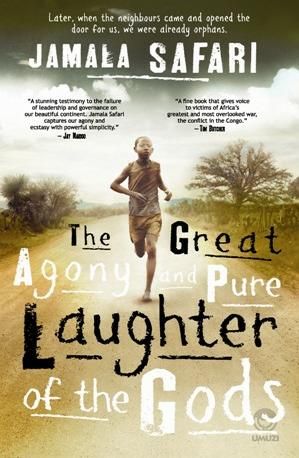 Coming soon from Umuzi, The Great Agony and Pure Laughter of the Gods by Jamala Safari:
Risto Mahuno's agony is what happens to his sweetheart Néné, to his cousin, and to himself. In the east of the Congo, where the border with Rwanda is also the border between life and death, the boys are abducted and forced to become soldiers, the girls raped.
Far too much happens for 15-year-old children. Néné is claimed by the warlord, Risto's cousin killed, and Risto, his eyes already dead, is beaten to the brink. His fate flings him south, on a fraught journey by foot or whatever ride he can get, to Mozambique, where he arrives with even less of himself left.
And yet the gods are laughing, for Risto's journey back holds promise of love, peace and family. Risto's story is based on real experiences.
About the author
Jamala Safari is a poet based in Cape Town. He was born and grew up in the eastern part of the DRC. After arriving in South Africa, he taught himself English and graduated in Biotechnology from the University of the Western Cape. He currently works in the Corporate Social Investment wing of a South African corporate.
Book details