Bridget Hilton-Barber's Most Memorable Holiday Moments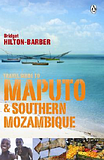 The Sunday Times recently interviewed Bridget Hilton-Barber, the author of Travel Guide to Maputo and Southern Mozambique, about her most memorable holiday experiences:
Where did you spend your last holiday?

Bilene in Mozambique, about two hours north of Maputo.

What was the best thing you did while there?

Sleep in a reed bungalow on the beach, without locked doors, burglar bars, alarms systems or even electricity. Walked and swam, bought fish and prawns from the local fishermen and cold beers from the nearby bar-lounge.
Book details