Bridget Hilton-Barber Describes Falling in Love with Maputo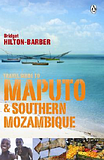 In an interview in the Citizen, Bridget Hilton-Barber speaks to Sibusiso Mkwanazi about her new book, Travel Guide to Maputo and Southern Mozambique, and how Maputo managed to transform from a civil war slump to a celebrated tourist destination:
In a week's time, Joburg will be a ghost town as its residents commence their year- end trek to coastal cities like Durban, Cape Town, East London and Port Elizabeth.

Author and travel writer Bridget Hilton-Barber has penned the Travel Guide To Maputo & Southern Mozambique, which will steer you away from those potentially overbearing cities.

"I just love how different Maputo is from South African cities," she says.
Book details