Koos Kombuis se jongste boek – Ver in die wêreld, sushi – is 'n keur uit sy rubrieke wat tussen 2005 en 2015 verskyn het in publikasies soos Rapport, De Kat, Taalgenoot en op LitNet en Netwerk24.
Met humor en 'n kenmerkende satiriese blik skryf Kombuis oor 'n wye verskeidenheid onderwerpe, van Orania en die poskantoor tot Afrikaanse musikante en sushi. Hy trek ook sy bedanking uit die Afrikanerdom terug – of wonder ten minste of hy nie 'n fout gemaak het toe hy die drastiese aankondiging gemaak het dat hy niks met "sy mense" te doen wil hê nie.
Ver in die wêreld, sushi is op Vrouedag in Philadelphia bekendgestel in gesprek met Bibi Slippers. Hulle het gesels oor die dinge wat hom Koos máák en nie maak nie (sy regte naam is André le Roux du Toit), die hordes tema's waaroor hy skryf en die dinge wat hom kwel of soms net so 'n bietjie pla. Hy gesels ook oor die kleiner dinge wat die lewe interessant en lekker maak, en deel raad vir wat mense kan doen wanneer stront plaasvind (sy vertaling van die bekende gesegde "shit happens").
Kyk na die video, opgeneem deur LitNet: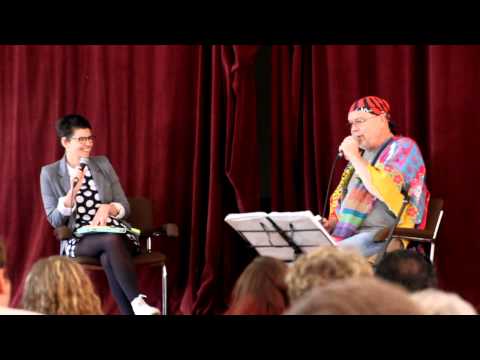 In die voorwoord van Ver in die wêreld, sushi – 'n artikel wat oorspronlik op LitNet verskyn het – skryf Kombuis oor die Nederlandse sanger Stef Bos, 'n groot vriend van hom. Bos het hierdie stuk, getiteld "Kyk noord, gaan voort!", op sy webblad gedeel.
Lees die uittreksel uit Ver in die wêreld, sushi:
Op hierdie Donderdagoggend in Februarie sit ek en luister na die nuwe CD wat ek pas van Stef Bos ontvang het.

Ons leef in vreemde tye. Tye van vreemdelingehaat, beurtkrag, parlementêre chaos, bedreigings teenoor die vrye pers, rassisme van alle kleure en geure, plaasmoorde, werkloosheid, toenemende polarisasie en algemene wanhoop.
In hierdie tye bring Stef Bos sy eerste volledig Afrikaanse album uit, en hy noem dit "Kaalvoet".
Op die omslag pryk Stef ordentlik kaalvoet, met sy tone wat behoorlik vir mens loer.
Hy lyk gelukkig.
Op die album klink hy meesal gelukkig.
Hy is duidelik in 'n goeie plek in sy lewe. Meer ontspanne as ooit tevore, soos iemand wat weet waar hy hoort en wie hy is.
Waar is hy?
Hy is in Afrika. Hy woon in Kaapstad.
Hy is ook dol daaroor om te toer deur die lengte en breedte van ons land.
Van sy gunsteling-bestemmings, bestemmings wat al liedjies by hom geïnspireer het, is dorpies soos Naboomspruit, Drie Susters, Nelspruit, provinsies soos Mpumalanga, bergpasse soos Die Hel, en vele meer.
En wie is hy?
Hy is 'n splinternuwe Afrikaner.
Uit die boks uit.
Die nuutste een wat ek ken. Pas gebore.
In 'n tyd wanneer Afrikaners oral gehaat word, in 'n tyd dat Afrikaners dikwels self bedruk voel en negatief ingestel word teenoor hul eie kultuur, het Stef ons volk as sy eie omhels, en verlief geraak, nie net op ons taal nie, maar sommer letterlik op 'n fisieke Afrikaanse nooi, met wie hy nou getroud is en twee kinders verwek het, kinders wat hy met alle mag oor 'n paar jaar na 'n Afrikaanse skool wil stuur.
"Ek is 'n wit ou van die noorde,
Ek het gereis na hierdie land"
Sing Stef op "Kaalvoet".
Hy sing ook
"Jou volk is my volk
Jou God is my God"
Dit beteken nie dat Stef 'n ver-regse heethoof is wat Die Stem sing en rassisitiese grappe vertel om die braaivleisvuur nie. Hy omhels nie die cliché's van Afrikanerskap nie. Inteendeel, sy album is stampvol etniese invloede en inheemse Afrika-klanke.
Sy liefde vir Afrikaans is 'n liefde vir die taal binne die konteks van 'n multikuturele opset.
Hy hou nie net van ons nie, hy hou ook van die plek waar ons woon, die mense tussen wie ons ons bevind.
Dit is nie my tyd en plek om hier 'n resensie van Stef Bos se album te doen nie. Daarvoor is ek natuurlik nie objektief genoeg nie. Ek is veels te naby aan hom. Hy is een van my beste en oudste vriende. Hy is die peetpa van een van my kinders. Ek het ook die afgelope twee jaar byna voltyds saam met hom getoer en sy werk opnuut intiem leer ken.
Maar ek wil graag ietsie vertel van die dinge wat ek by hom geleer het, die idee's wat oior die jare aan my afgegee het terwyl ek tyd met hom gespandeer het.
Om met hom te toer was louter plesier. Sy brandende optimisme, sy humorsin, en sy sin van persoonlike vryheid was vir my 'n inspirasie.
Om eerlik te wees – en ek besef dit nou eers, hier waar ek nou sit met my koppie koffie en die klanke van Stef se musiek wat uit my computer spoel – my persoonlike en professionele verhouding met Stef Bos was tien teen een een van die groot redes waarom ek in die loop van die afgelope paar jaar besef het dat ek, ten spyte van 'n uitspraak wat ek eenmaal in die verlede gemaak het, ek, na alles, tog 'n Afrikaner is.
Hoekom het ek daardie dag, jare gelede, uit die Afrikanerdom bedank?
Okei, ek was moeg van die stereotype beeld wat ander en onsself van ons gehad het.
Ek was ook sielsmoeg van dit wat ek gesien het as eng denke, paranoia, en rassisme.
(Ek was ook 'n bietjie gatvol vir die meeste Afrikaanse musiek, so tussen ons.)
Deur al die negatiewes – negatiewes wat weliswaar vandag nog bestaan – het ek versuim om die goeie raak te sien, die dinge van my volk wat puik en voortreflik en oulik en wonderlik is.
Ek het vergeet wat 'n lekker klomp mense ons eintlik is.
Dit het 'n buitelander gevat om my die positiewe dinge van my land en nasie raak te sien.
"Jy kla oor dit en jy kla oor dat…
Kry jou gat in rat!"
sing Stef op "Kaalvoet".
Eenvoudige raad, maar ons kan dit gerus ter harte neem.
Ek het dit ter harte geneem.
Natuurlik is dit nie altyd maklik nie. 'n Postiewe uitkyk is moeilik. Dit verg soms baie moed. En om te ontken dat ons in uiters gevaarlike en beklemmende tye leef, sou gekheid wees.
As ons 'n positiewe houding wil aankweek soos Stef ons aanraai, sal ons dit moet doen in volle bewussyn van die probleme waarmee ons worstel. 'n Mens kan nie 'n vrolike deuntjie neurie of fluit terwyl jou kop in die sand begrawe is nie.
Ons moet die lelike dinge en die onaanvaarbare gebeure en die aakligheid reguit in die oë kyk – soos Maimane met Zuma gedoen het daardie onvergeetlike dag in die Parlement, skaars twee dae gelede hier waar ek nou sit – en jy moet steeds kan sê, met selfvertroue, regop en fier: "Ek is 'n Afrikaner, en ek glo in 'n toekoms van my land, Suid-Afrika, en in die toekoms van al my mede-Suid-Afrikaners."
Natuurlik sal dinge beter raak. Dalk nie dadelik nie. Dalk gaan dinge slegter raak voordat dit beter raak. Dalk gaan dit BAIE slegter raak voor dit beter raak. Ek weet nie.
Eintlik het ek hierdie stuk begin skryf vanoggend om as Voorwoord te dien vir 'n rubriekbundel van my eie Afrikaanse rubrieke wat later vanjaar by Penguin verskyn. Ek besef nou eers dat dit dalk op die ou end meer is as net dit.
Tye verander, en tye verander soms vinnig, teen 'n verstommende tempo, soos 'n handomkeer.
Eik het dit besef toe ek deur die argiewe van ons Afrikaanse koerante "surf" en besef dat heelparty van my ou rubrieke, rubrieke wat so onlangs as 2005 tot 2008 verskyn het, heeltemal uit die kuberruim verdwyn het. Ek het hulle geluklig nog op my hardeskyf, maar dis onmoontlik om die presiese publikasiedatum te bepaal. Dit het eenvoudig in die niet verdwyn.
As die slegte ouens ook maar so in die niet kan verdwyn soos daardie ou rubrieke van Koos Kombuis…
Alle grappies op 'n stokkie. Ek weet nie of President Jacob Zuma nog aan bewind gaan wees wanneer my bundel oor 'n paar maande verskyn nie. Dalk is hy. Dalk is hy nie.
Dalk het ons iemand beter.
Dalk het ons iemand erger.
Mens kan jou so-iets kwalik indink, maar ja, dis moontlik.
Dis moontlik, in 'n "worst case scenario", dat beurtkrag plek maak vir 'n volslae duisternis. Dis moontlik dat ons wankelende strukture heeltemal in duie stort. Dis moontlik dat die tientalle slaggate wat ons nasionale paaie versier vergroot en verdiep tot reusagtige donga's wat alles insluk en vernietig, soos die universele kloof van die volksdigter se ou apartheid-beiteltjie.
Ons is, selfs nou, 'n hanetree af van die skrikwekkende fenomeen van xenofobie, op subtieke wyse aangehits deur die ANC (ten spyte van die feit dat hulle voorgee om die aanvalle op Somaliërs, Malawiërs te veroordeel) sal groei tot 'n Nuwe Apartheid, tot 'n felle haat van die regerende elite teen alle minderheidsgroepe.
Wat was sy uitspraak oor Jan van Riebeeck anders as die aanloop tot, bes moontlik, die subtiele aanhitsing van 'n toekomstige heksejag op alle blankes? Miskien nie overt nie, miskien nie deur wetgewing of 'n direkte oorlogsverklaring nie, maar deur op genuanseerde wyse die etiket "vreemdelinge" om witmense se nekke te hang, is hy besig om hierdie groep Suid-Afrikaners as't ware voëlvry te verklaar.
Dit kan dit op die ou end selfs lei tot aanhitsing om meer boere te vermoor, meer grond weg te vat sonder onderhandeling of vergoeding, nog publikasies wat individualisme en die vrye mark voorstaan (deur soveel ANC-lede as "Westerse waardes" afgemaak) te ondermyn of selfs te sluit.
Dit kan lei tot 'n allerverskriklike reeks gebeure, 'n nasionale ramp soos nooit tevore nie.
Die aanhits van xenofobie is vir hierdie regime natuurlik 'n dringende noodlyn, 'n logiese taktieke skuif. Dis al wat hulle nog kan red van 'n verenigde opstand deur alle Suid-Afrikaners teen 'n regime wat deurtrek is van korrupsie en hebsug, 'n regime wat, tot 'n groot mate, homself reeds gevestig het as die grootste misdaad-sindikaat wat Suid-Afrika nog ooit gesien het.
As hierdie regime – en ek noem hulle doelbewus 'n regime en nie 'n regering nie, want hulle voldoen nie meer aan die definisie van regering nie – daarin slaag om Suid-Afrika te verdeel sodat hulle meer effektief oor ons kan heers, sal die sotterny wat deur verlede jaar se Malema's en Hofmeyrs begin is, eindelik tot 'n tweede Serbië lei. Ons wil dit nie glo nie, en ons hpoop nie dit gebeur nie, maar dis moontlik.
Bereik ons 'n sekere "tipping point", kan so 'n ondenkbare situasie feitlik oornag ontwikkel. En dan sal die spreekwoordelike "nag van die lang messe", deur soveel paranoïese volskvaders in die vooruitsig gestel, 'n selfvervullende profesie word.
Ergste van alles, dit sal ons eie skuld wees. Nie ten volle nie – ons is nie verantwoordelik vir die waansin van die Zuma-kaders nie – maar ons sal skuldig wees aan sonde van versuim, die sonde van te veel blaam en te min aksie toe dit nog kon tel, toe dit nog kon help om mense saam te snoer en bewus te maak van hul gemeenskaplike identiteit as Suid-Afrikaners, hul bolwerk teen die banale, hul skild teen die skande en die skrik van die dreigende diktatorskap.
Hierdie is moeilike tye. Hierdie is kritieke tye. Hierdie is ook tye van hoop.
Daarom luister ek vanoggend na Stef Bos. Ek luister na hom, want soos Paulus vanouds wil ek my lendene omgord met sy kommen-sens-waarhede, wil ek myself klee in die volle wapenrusting van humor en liefde en versoening en self-respek en wedersydse aanvaarding en moed en optimisme, ja optimisme en geloof teen alles wat venynig, flagrant boos, vieslik en plein simpel is.

Ek luister vanoggend na Stef Bos. Ek luister na hom, en ek hoor hom sing:

"Want hierdie land is nie die hemel
En al kak jy soms af
Sal ons kuier tot die einde
Sal ons sing tot in die graf
Moenie huil nie, moenie treur nie
Daar's nuwe dag vir elkeen wat jy verloor
Moenie huil nie, moenie treur nie
Kyk noord, gaan voort…
Boekbesonderhede